It's important to Have Fun, Make Memories and Live Life to the Fullest. A bunch of us did just that and more and had a great experience and another Memory that will last a lifetime! Life is so precious and when you have an opportunity to get together, to experience life together and to simply just create your own adventure, then don't hesitate!
It's been years since I attended a show at Bard on the Beach, but what an opportunity a few of us YVR Bloggers had the other night! This is the 25th year of the Bard on the Beach Shakespeare Festival and what an amazing lineup of shows to check out! This place was packed and the show, well let's just say I've never been to a show where everyone was so happy giggling, laughing and having such a good time from beginning to end.
Midsummer Night's Dream was in a word "fantastic!!" It was literally one of the funniest things I had seen in a long time, since the day I dropped my car keys down the hole in an outhouse one summer (a shitty story perhaps to be told or written into a Shakespeare play).
I'm really happy that most of us watched a video or read about the plot first because as I looked around the room, there were many people that had that, "what just happened, what did she say or duh" look on their faces. I could tell they finally got it, but I'm sure they are at home right now saying, "Can you explain that to me again."

For me though and the rest of our crew, we were in stitches the whole night. As a group of friends and bloggers, it's very cool to re-hash the great BC adventures that we have been on and share great things with our readers.
I was also blown away by the costumes and the amazing acting skills by everyone in the cast. I highly recommend checking this show out, and of course every single Bard on the Beach event. Get more info. about Bard and all other event information at:
Bard on the Beach
Here's a Brief from their website:
Bard on the Beach Shakespeare Festival was established in 1990 with a mandate to provide Vancouver residents and tourists with affordable, accessible Shakespearean productions of the finest quality. A fully professional, not-for-profit theatre company, Bard on the Beach now engages thirty actors each season as well as a team of exceptional directors, designers, and technicians; it is also supported by more than 200 volunteers. The productions consistently receive both critical and audience acclaim and repeatedly play to sold out houses.
And as a bonus, what a pleasure meeting Christopher Gaze, Artistic Director and Founder of Bard on the Beach. His story of love and persistence for his dream was nothing short of an inspiration to us all.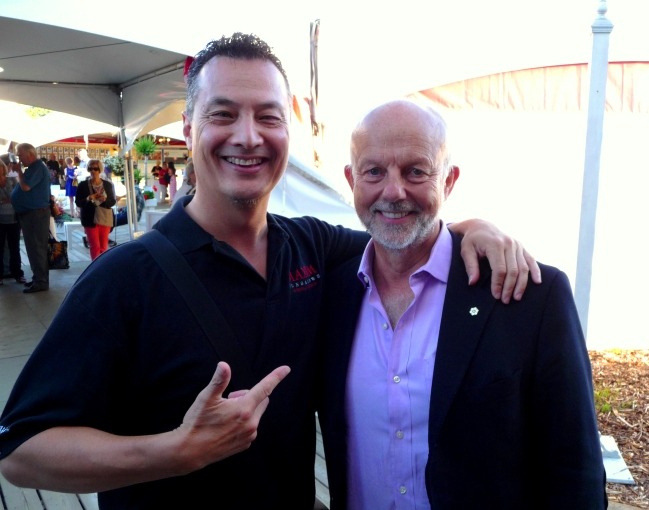 ——–
Passionate about helping others discover a purposeful life filled with Grateful Happiness, Robin encourages others to Make Memories and Live Life to the Fullest! He enjoys Spreading Joy, Loving Life, and Making a Difference!
—–