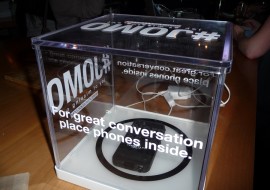 Is it possible to exist without a tablet, computer or smartphone for a day, two days, a week, 2 weeks, perhaps a month? I'd like to, but what if I miss a Tweet, a Like, a Comment or even better, a new Follower; Oh my gosh, holy cow, a new Follower! So having said all that, I would have to say, No it's not possible! Or is it?
When people disconnect, they truly start to connect
When I wrote a chapter called "Living the Dream" in our best selling book called "Conversations that make a Difference", yup you guessed it; it was all about "Conversations that make a Difference." That's why I was excited to come out and support my new friend Christina Crook who created something so awesome, who always expresses that real conversations will make a difference, and who wrote an awesome book, "The JOY of Missing Out: Finding Balance in a Wired World."
What does that mean – well first off, it means you need to buy the book and secondly, it means you need to buy the book! Of course, you can always call me and I'll tell you everything I know! On second thought, naw, buy the book!
That night a short while back, it was a pleasure to be around so many amazing people who did not have a cell phone on them. Well, they did actually. We were just told to put them away in this crazy awesome BOX! Wow is all I can say about the experience that night; Real conversations, Real connections and a really good time!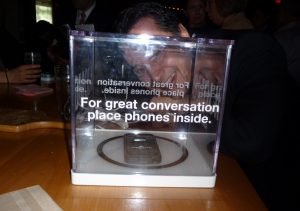 I'm not gonna lie; I did miss my cell phone for a few seconds and even heard it beep one time, but I was a trooper and kept it in the #JOMO Box (short for Joy of Missing Out) Wow, what has the world come to that we now rely so much on our technology!
Just the other day, my Mom and I were chatting on the phone about what life was like when I was growing up as a kid in Halifax, Nova Scotia without a cell phone and without Social Media. I can't even believe that happened, but some of the memories I had were of always being around awesome people, playing tennis and golf without checking messages and needing to post pictures, meeting at each others houses, chasing girls and actually having conversations. Now I know we can have conversations over twitter, facebook, instagram, etc and we don't have to bother actually hanging out, but wow what a different world we live in because of that. I do recall one experience where a cell phone could have come in handy though – I remember being chased down the street by some guys who were being mean, throwing rocks, etc. I guess it would have been cool for me to pull out my Samsung or whatever at the time and send out a tweet or a facebook message saying, "HELP!"
Friends, I want to publicly congratulate Christina Crook for her revolutionary idea and her Let's Get back to Living Philosophy of just hanging out and having great conversations. The night she revealed her new book was great and the energy in the room was electric, not from our cell phones, but from the real conversations happening in the room the whole night. The coolest part for me was just before I put my cell phone in the #JOMO box and asking Christina if I could just send one more facebook message first LOL. Of course she said, "Nope"
Social Media can be overwhelming and can waste alot of your time and keep you disconnected if you don't pay attention to this, and my recent experience with this BOX and the great conversations in the room that night taught me alot. At first, I thought it was kinda weird, but after understanding what the box was for, I realized that this idea was revolutionary and that we don't actually need phones or facebook or twitter, etc to have real relationships with people.
Try it out; do what Christina did and go without for a month! It may be an enlightening experience for you. I'm slowly trying that and so far have been without for 2 hours – not a bad start!
If you would like to have a Conversation the Makes a Difference, make sure you say hello to Christina by Clicking here to connect.
Simply a spectacular person with a spectacular idea!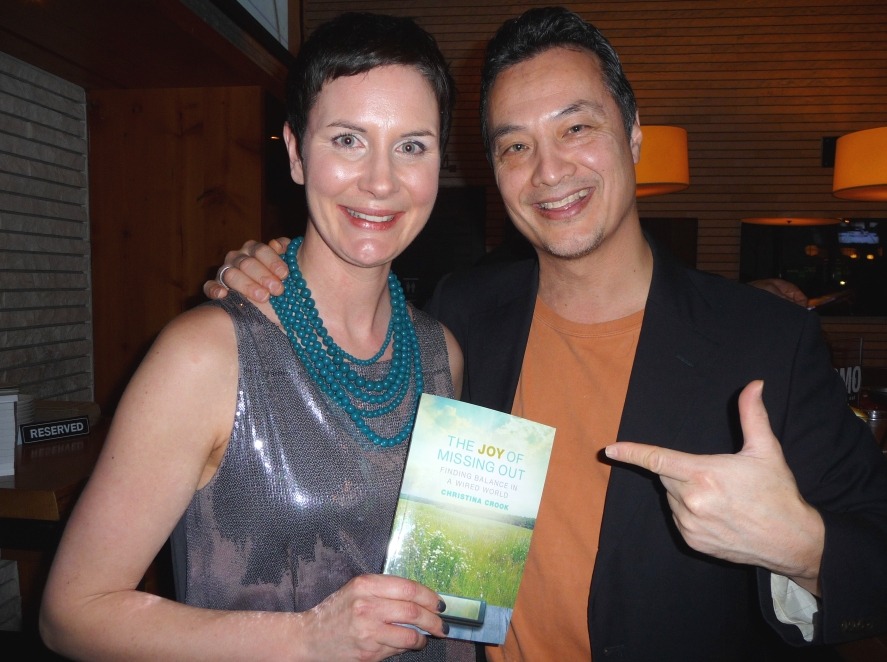 ——–
Passionate about helping others discover a purposeful life filled with Grateful Happiness, Robin encourages others to
Make Memories and Live Life to the Fullest! He is passionate about Spreading Joy, Loving Life, and Making a Difference!
—–